We provide Russian Translation Services in Dubai. Our certified interpreter in Dubai speaks three languages, Russian Arabic and English. She translates from Arabic and English into Russian language. Simultaneous and consecutive interpreting service is available in Dubai Area, our clients are mostly business executives who visit exhibitions and forums in Dubai Festival City, and across the United Arab Emirates.
Recently, high volumes of Russian-speaking people have moved to the sunny Dubai, a desert emirate where they can live sanctions-free. Russian-speaking people are also credited with enhancing Dubai's luxury property sector. Oligarchs and other wealthy businesspeople take up multimillion-dollar seaside villas as either a residential place or an investment.
The cost of hiring an interpreter in Dubai is estimated on an hourly basis, starting at a rate of 200 Dirham per hour.
Clients should be aware that there is a minimum charge for 3 hours of service, ensuring that interpreters are fairly compensated for their time and expertise. Interpreters are reliable and responsible individuals who possess the necessary skills to provide high-quality interpreting and translation services across various locations in Dubai. With their professionalism and linguistic prowess, they are equipped to facilitate seamless communication between parties, making them invaluable assets in business, tourism, and other sectors where language barriers may arise.
We offer fair compensation for interpreters' time and expertise & we ask clients for:
Minimum order charge for 3 hours of service
Advance Booking, at least 48 hours where possible
50 % Online payment for the reservation
In return we provide Reliable and responsible interpreters who offer High-quality interpreting and translation services
Linguistic prowess and professionalism
Seamless communication facilitation
Invaluable assets in business, tourism, and other sectors
Overcoming language barriers
Linguistic experts in Dubai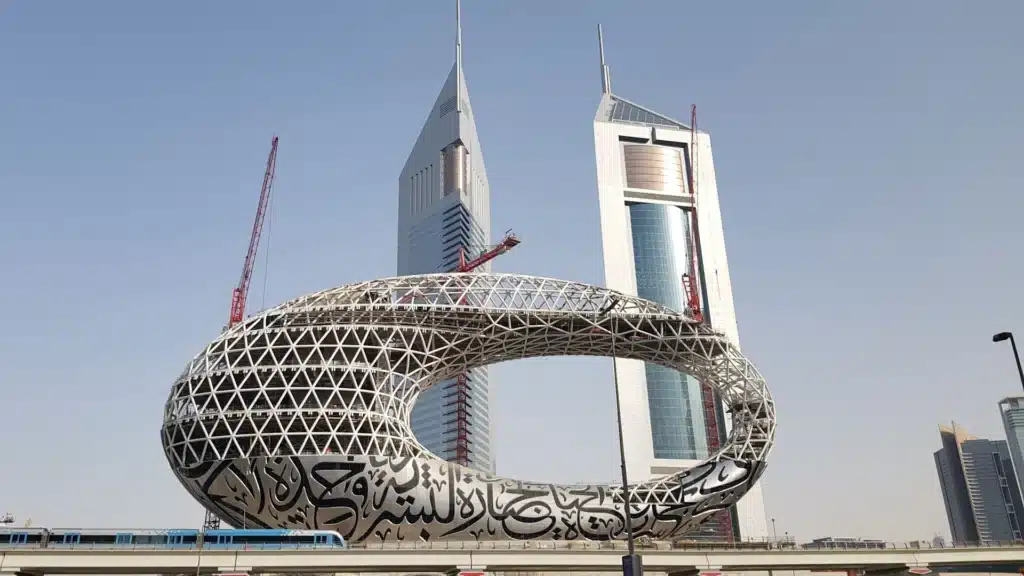 Half-Day Package (up to 4 hours):
Suitable for events, meetings, or conferences that require interpretation for a shorter duration.
---
Corporate meetings
Business presentations
Negotiations and consultations
Product and service launches
Workshops and seminars
Panel discussions
Full-Day Package (up to 8 hours):
Ideal for full-day conferences, seminars, or business events that require continuous interpretation throughout the day.
---
Conferences and symposiums
International forums and exhibitions
Press conferences
Corporate training sessions
Business meetings and negotiations
Sports events and competitions
2-Day Package (up to 16 hours):
This package is suitable for events or conferences spanning two consecutive days.
---
Conferences and symposiums
International forums and exhibitions
Press conferences
Corporate training sessions
Business meetings and negotiations
Sports events and competitions
Special exhibition
Six single-use guest passes per year
Progressive Discounts:
Please note that these rates are starting prices and can vary depending on the language combination, specialized subject matter, and other specific requirements of your event. Additional charges may apply for additional services such as equipment rental, travel expenses, or specialized technical equipment.
If the booking exceeds 4 hours: 5% discount on the total price
If the booking exceeds 8 hours: 10% discount on the total price
For example, if the booking is for 10 hours:
Total price for 10 hours: 2,000 AED (200 AED per hour)
Applying the 10% discount: 10% of 2,000 AED = 200 AED
Final price: 2,000 AED – 200 AED = 1,800 AED
Please note that the progressive discounts are based on the total duration of the booking and are calculated from the base price per hour.
For a detailed quote and to discuss specific requirements, please contact us at

[email protected]

or call us at +971 55709-0383. We are here to assist you and provide a customized package tailored to your needs.
---
Unlock Multilingual Success at Dubai's Premier Construction Exhibition with Our Expert Interpreter
Elevate your company's presence at the upcoming Dubai construction exhibition in February 2023 with the invaluable assistance of our proficient Russian language interpreter. Fluent in Arabic, English, and Russian, our interpreter will ensure seamless communication and boost your business opportunities at the Middle East's largest real estate conference.
Maximize your outreach with customized marketing materials crafted in Arabic, English, and Russian to cater to a diverse audience.
From translating subtitles to providing voice-over services for your corporate video, our expert interpreter will deliver a professional and polished multilingual experience. Engage your international clients and unlock new possibilities with our top-tier linguistic solutions.
Experience Multilingual Excellence at Renowned Dubai Exhibitions, Past and Present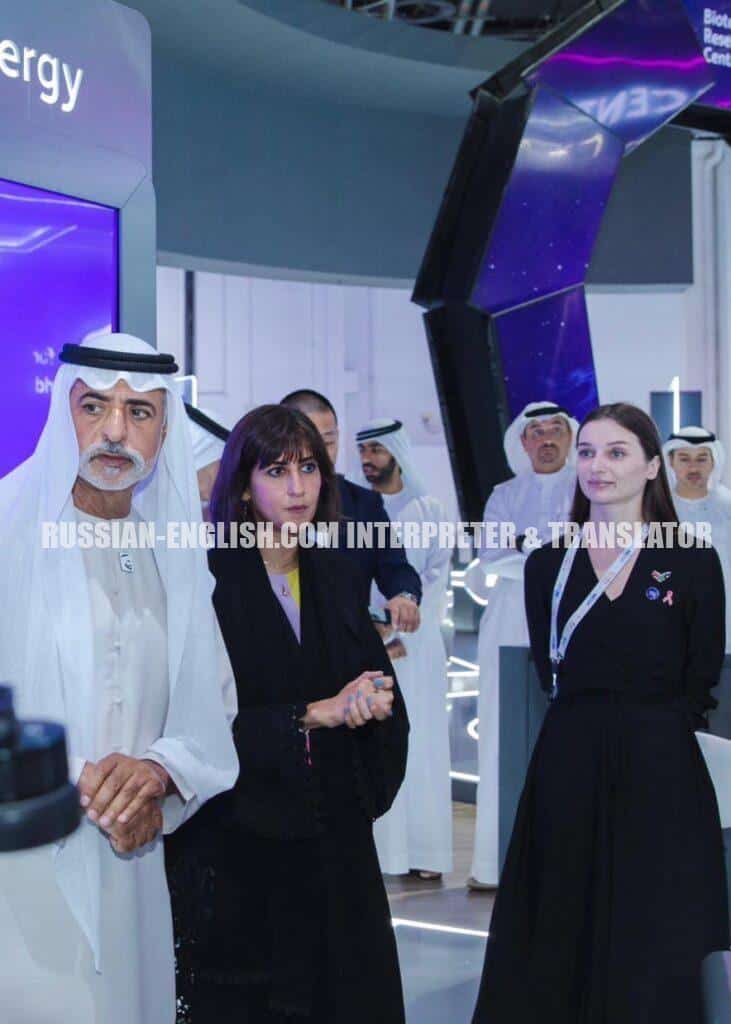 Our expert Russian language interpreter, proficient in Arabic, English, and Russian, has been instrumental in assisting companies at various prestigious Dubai exhibitions, both past and present. Their linguistic expertise has empowered businesses to create meaningful connections and seize opportunities at these events.
Can you provide a professional interpreter for my upcoming business trip to Dubai?
From renowned real estate conferences to groundbreaking technology expos, our interpreter has facilitated seamless communication, enabling clients to engage with a diverse audience.
Interpreting Services in Dubai:
Synchronous interpreting,
Consecutive interpreting,
Simultaneous interpreting,
Conference interpreting,
Business interpreting,
Professional interpreters,
Multilingual communication,
Language services,
Interpretation equipment,
On-site interpretation,
Remote interpretation.
We Translate / Interpreting on various Events in Dubai:
Conferences
Exhibitions
Trade shows
Seminars
Workshops
Meetings
Symposia
Product launches
Corporate events
Press conferences
Cultural festivals
Sports events
With a comprehensive range of services, including translation of marketing materials, subtitles, and voice-overs, our interpreter has been a crucial asset in ensuring success at these high-profile events. Partner with us to experience the exceptional linguistic solutions that have contributed to our clients' triumphs at Dubai's most illustrious exhibitions.
What is the cost of a trilingual translation in Dubai?
Arabic to Russian interpreter in Dubai
If you require a trilingual interpreter with proficiency in Arabic, Russian, and English, the cost may be higher due to the additional language expertise. In this case, you can expect the rates to start at 250 Dirhams per hour.
However, it is essential to note that the actual cost may vary depending on factors such as the interpreter's experience, the nature of the event or meeting, and the duration of the service. It is advisable to contact our translation agency or an individual interpreter to get a more accurate quote based on your specific needs. Always consider the interpreter's qualifications, experience, and any specialized expertise required for your particular situation when making your decision.
Your Trilingual Key to the UAE: Arabic, Russian, and English
We provide Russian – English – Arabic translation services in major cities in the United Arab Emirates (UAE):
Dubai
Sharjah
Ajman
Ras Al Khaimah
Fujairah
Umm Al Quwain
Al Ain