Сопровождаю в командировках по Восточной Европе. Работаю переводчиком английского языка в Вильнюсе и в других городах Литвы. А также в Риге, в Латвии. Есть английский и русский паспорт и могу работать ассистентом – переводчиком как на европейской, так и на белорусской и российской территории, например в Минске или границе России и Белоруссии. 
Russian-English Interpreter and Translator in Vilnius, Lthuania
АНГЛИЙСКИЙ-РУССКИЙ ЯЗЫК ДЛЯ ВСТРЕЧ И ВЫСТАВОК В ЛИТВЕ, ЛАТВИИ, ЭСТОНИИ
Русско – английский переводчик в Литве, базируюсь в центре Вильнюса. ул. П. Ширвио 16, Вильнюс 10214. Осуществляю последовательный перевод с русского на английский и с английского языка на русский. Кроме того, синхронный и последовательный перевод для конференций и больших групповых встреч и выставок в Литве, Латвии и Эстонии.
Готова в короткие сроки выехать и обеспечить русский – английский – русский устный очный перевод в Вильнюсе – Литва для проведения мероприятий и выставок. 
I can voice over in either my native Russian or English language with a Russian accent. I am capable of working remotely from my professional Adobe Voiceover Studio or in-person. If you need a professional Russian Voice for an audiobook or a documentary.
☎+370 649 32818 t./What'sApp ✉[email protected]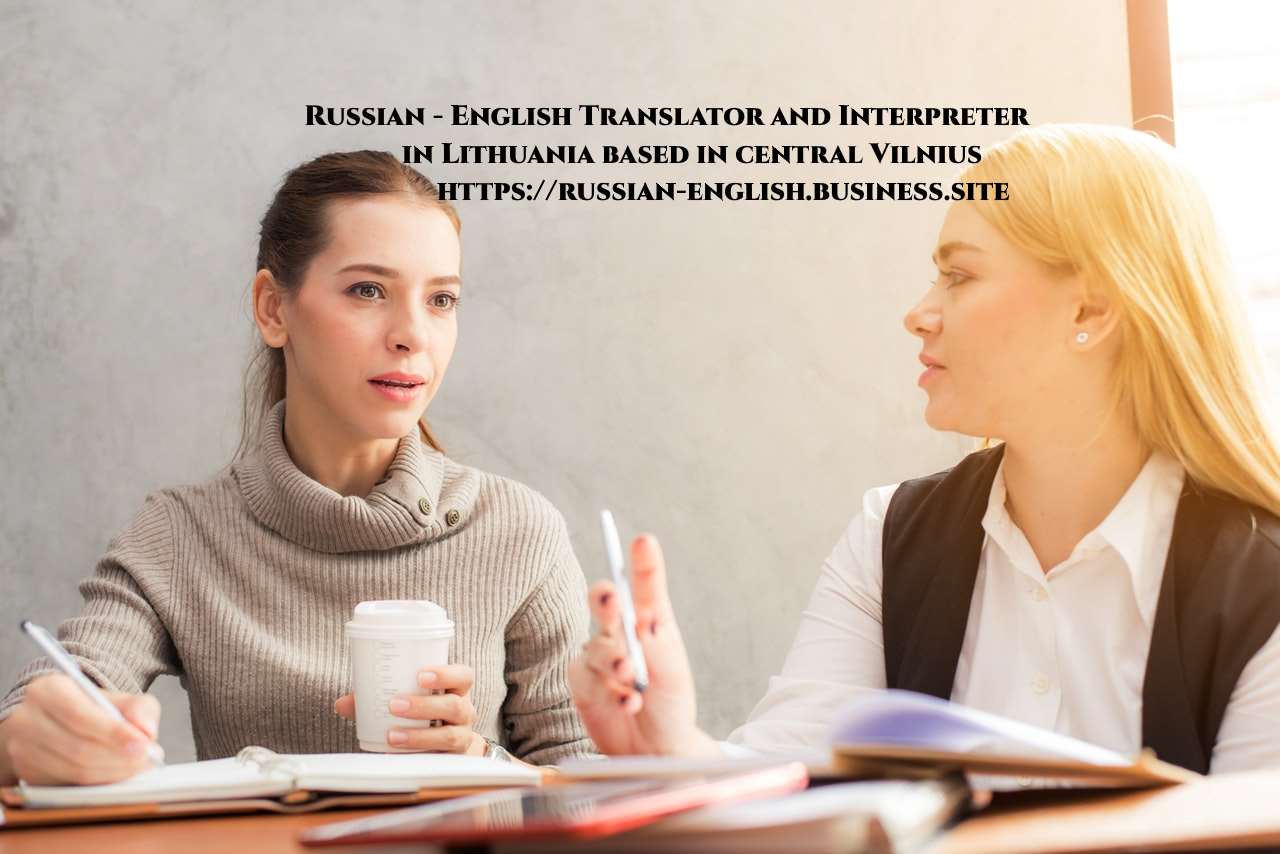 Переводчик английского языка в Вильнюсе
I can travel around Europe. The cost is estimated per hour of work and starts at £55 per hour and the minimum charge is £220 for 4 hours. I am reliable, and responsible and can provide interpreting and translation on any subject. Moreover, I can help with language fact-checking if needed.
Any Russian or Eastern European accent 
RUSSIAN ENGLISH INTERPRETING FOR Dubai & Abu Dhabi events €300 PER DAY.
We can help make YOUR event the most productive and provide
Russian English interpreting service
and assistance. 
Russian-English Interpreter Business Assistant in Vilnius