Дубляж зарубежных фильмов с русского на английский
Russian-English conference interpreter in Geneva
Whether you require an interpreter for a dedicated meeting, special event or conference in Switzerland, we can provide a Russian-English interpreter.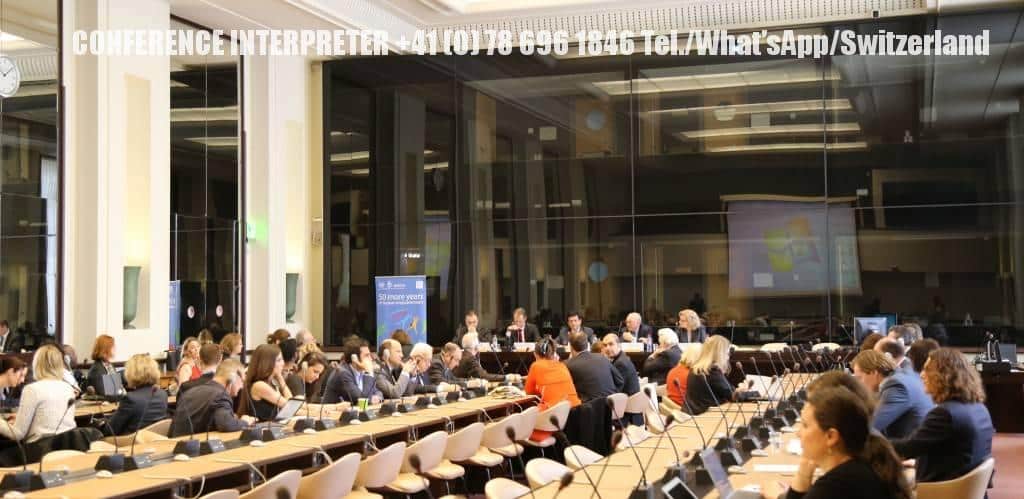 Many of our specialists hold an Enhanced Disclosure and Barring Certificate (DBS) and can work with vulnerable groups. You can read more about this document of extra security here.
We provide Russian Interpreters at events in the Geneva area.
Our Interpreters work for various businesses and administrations. Many of them have flexible timetables. Therefore, we can book a suitable Russian translator on short notice. Please, contact me anytime via email: [email protected] or +41(0)78696-1846 Tel./What's App in Switzerland
For example, a freelance interpreter in Geneva with Russian & English skills might work essentially for bodies within the United Nations, at ongoing conferences (occasionally lasting weeks). An interpreter will travel from Geneva to the site or stay at a nearby hotel for an outlined period. Major events are scheduled beforehand and often held outside of Geneva. Thus, for remote occasions, we calculate travelling costs and language services.
Дублируют ли фильмы из России?
Большинство всех высоко бюджетных фильмов, показываемых в англоговорящих странах, например, в Великобритании дублируются на английский язык. Тем не менее, встречаются фильмы на русском языке. Если вы не говорите по-русски или просто предпочитаете смотреть фильм на языке оригинала
В 2022 году в Швейцарии пройдут научные и бизнес конференции. На всех событиях будут работать квалифицированные переводчики с русского языка на английский. Наша команда Russian-English.com предоставит специалистов в любом городе Швейцарии, в том числе мы работаем в городах: Цюрих, Женева, Базел, Лозанна и Берн.
Abu Dhabi-based interpreter AN ENGLISH LANGUAGE ASSISTANT DURING WORLD CUP IN RUSSIA Arabic-Russian interpreter Beauty Training Interpreter CERTIFIED TRANSLATION cosmetics translation document translation DUBAI Dubai and Abu Dhabi-based interpreter Dubai interpreter DUBAI WORLD TRADE CENTRE ENGLAND in England interpreter On-site Russian interpreter russian-english RUSSIAN-ENGLISH INTERPRETER IN DUBAI RUSSIAN-ENGLISH INTERPRETER in London Russian – English Language Russian Interpreter in Davos Russian Interpreter in Dubai Russian Interpreter in Geneva Russian Voice Russia –English consecutive Interpreting Switzerland TECHNICAL Technical interpreting technical terminology translator UAE Voice Over Американское посольство ПЕРЕВОД С РУССКОГО НА АНГЛИЙСКИЙ НА ВЫСТАВКЕ ТЕХНОЛОГИЙ 17–19 АПРЕЛЯ 2018 В МОСКВЕ. Translating Russian-English and English to Russian ПЕРЕВОДЧИК – СТЕНДИСТ НА ТУРИСТИЧЕСКОЙ ВЫСТАВКЕ В ЛОНДОНЕ Переводчик в Дубае Переводчик в посольстве Швейцария в американском посольстве консульство США с русского на английский собеседование в посольство с русского на английский технический переводчик услуги устного перевода устных переводов
 Дубляж зарубежных фильмов с русского на английский
 Дубляж зарубежных фильмов с русского на английский